Yippee! We are going to the theater….
Family theater Titi and the Fire sprites
Theater Eisenbarth in Zürich
from September 2019 till June 2020
From September 2019 to June 2020, we play "Titi and the Fire Sprites" at Gladbachstrasse 119 in 8044 Zurich. Every week from Friday to Sunday.
The performances on Sunday are alternately at 11:00 am and 16.00 in the afternoon.
Please register; if you come spontaneously you risk losing your place.
Entry : 20.- (children and adults alike)
The theater is for children from 3 years. Even older children and adults are excited about "Titi".
"May I also bring younger siblings?"
If you bring children who are less than 3 years old, they will have to pay if they can walk – and we ask you to leave the show if they are bothering.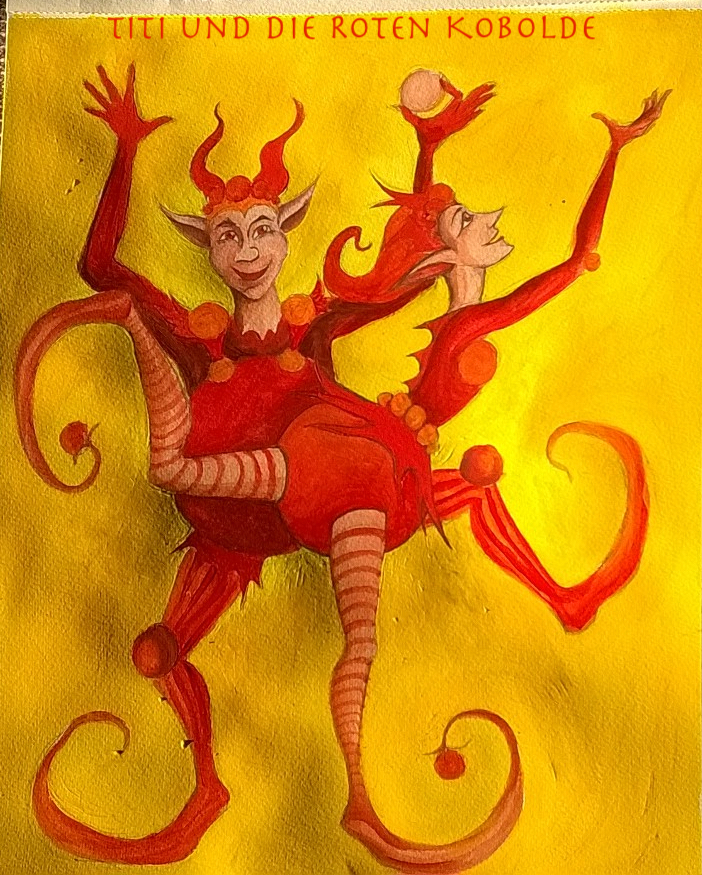 "Titi and the Fire Sprites"
What happens if 2 fire goblins meet a crowd of people?
The balls roll, the sounds sound and "Titi" is the key to the secret.
let yourself be surprised!
Immerse yourself in the new, poetic piece from the Theatre Eisenbarth.
Finest movement theater, interactive and understandable for ALL – for young and old, big and small, thick and thin, stupid and dumb … – oh, these Sprites!
The children are sitting on the floor, on a carpet with cushions, playing or dancing with the Sprites.
"Titi" not only delights children, even adults have their fun. Foreign-language people are just as cordially invited, because the play is without text, with onomatopoeia, easily understandable.
Creation & Acting: Manuel Schunter, Josune Goenaga, Lorenz Eisenbarth & Simone Lüscher
Stage design and costumes: Somogyi Katalin
Production: Theater Eisenbarth
Duration : 50 Minutes
Datum
Uhrzeit
Veranstaltungsort
Status
Freitag, 06.09.2019
15:00
Gladbachstr. 119, 8044 Zürich
Plätze verfügbar
Anmelden
Samstag, 07.09.2019
16:00
Gladbachstr. 119, 8044 Zürich
Plätze verfügbar
Anmelden
Sonntag, 08.09.2019
16:00
Gladbachstr. 119, 8044 Zürich
Plätze verfügbar
Anmelden
Freitag, 13.09.2019
15:00
Gladbachstr. 119, 8044 Zürich
Plätze verfügbar
Anmelden
Samstag, 14.09.2019
16:00
Gladbachstr. 119, 8044 Zürich
Plätze verfügbar
Anmelden
Sonntag, 15.09.2019
11:00
Gladbachstr. 119, 8044 Zürich
Plätze verfügbar
Anmelden
Freitag, 20.09.2019
15:00
Gladbachstr. 119, 8044 Zürich
Plätze verfügbar
Anmelden
Samstag, 21.09.2019
16:00
Gladbachstr. 119, 8044 Zürich
Plätze verfügbar
Anmelden
Sonntag, 22.09.2019
16:00
Gladbachstr. 119, 8044 Zürich
Plätze verfügbar
Anmelden
Freitag, 27.09.2019
15:00
Gladbachstr. 119, 8044 Zürich
Plätze verfügbar
Anmelden
Samstag, 28.09.2019
16:00
Gladbachstr. 119, 8044 Zürich
Plätze verfügbar
Anmelden
Sonntag, 29.09.2019
11:00
Gladbachstr. 119, 8044 Zürich
Plätze verfügbar
Anmelden